Arnie Vered is on a Journey to be 'a champion of cancer'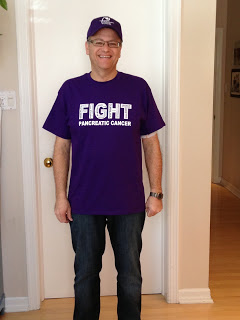 You're not likely to hear Ottawa businessman and community leader Arnie Vered refer to himself as "a cancer survivor". This married father of six and president of Arnon Corporation found out on March 21 that he had the pancreatic cancer and would require at least four rounds of chemo, maybe more, to shrink the cancer and then perform surgery.
"I truly believe the word 'survivor' is not the right word; it just gives too much respect to cancer," Arnie said, one day after finishing his fourth round of chemotherapy. "I'm going to be 'a champion of cancer'. When you're battling cancer, you beat the crap out of it."
Known by many as one of the greatest and most giving people that you will ever meet. It is not a surprise the response we received when he was asked if we could use his story here on the website.
"I am okay with Pancreatic Cancer Canada using my story and the link to the blog. If it is felt that it can help others, then I am all for it."
Details his journey of being a champion of cancer and has become an inspiration to others and greatly shows how much strength Arnie has himself and how much he gains from his loving family and friends.
Check out Arnie's blog - The Chronicles of Arnia

The Good Fight: My Battle with Pancreatic Cancer


Lindsay first came to us in August 2010. By then, she was a veteran at living with this terrible disease. She was diagnosed at the age of 20, five years before. The disease had already spread to her liver and she wasn't expected to live more than 12 months. But Lindsay defied the odds. Her cancer was stabilized after a clinical trial, she had surgery and went into remission, writing "I got my life back. It was incredible! I did everything I could, lived every moment to the fullest, took nothing for granted."
By the time we met her, the cancer had returned, but she was still determined to live life with gusto and to give back. "Currently, I am still undergoing treatment, but I've also made it to my third year of law school, and I refuse to let the disease get me down," she told us. "I'm interested in doing some advocacy work for the Pancreatic Cancer Canada organization, because I know how underfunded research for this disease is, and how invisible it is in the public eye relative to other cancers."
Lindsay decided to write under a pseudonym because she worried that being honest about her condition would make it impossible for her to get work. We agreed. And so, Carrie Ng Grace was born. She chose that name because: " 'Carrie' pays homage to Carrie Bradshaw from Sex and the City who was one of my favourite tv characters and I see a lot of myself in her (she's a writer, a romantic, she loves fashion/has great style, she's a small built girl and very passionate about life)."Ng" sounds Chinese; "Grace" is what I try to exemplify in the face of adversity and every day life (except maybe when I'm eating!! haha) and strung altogether, it sounds like "Carrying Grace."
She had the courage to write a searingly honest blog about her experiences as probably the youngest person ever diagnosed with pancreatic cancer in this country. Lindsay hoped that her blog would continue to inspire others to FIGHT the GOOD FIGHT.
We are honoured to share with you Lindsay's, a.k.a. Carrie Ng Grace, incredible journey and inspirational blog: http://pancancanada.ca/pccblog/