Marvin Auseth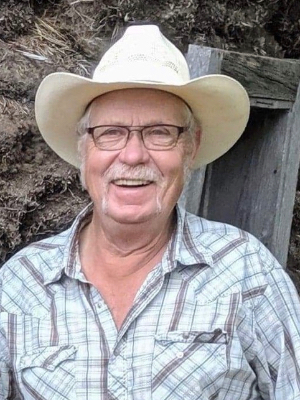 Marvin Auseth was born on June 9, 1950 in Swift Current, SK.
He was predeceased by his father Ole Auseth, his mother Laura Auseth. He leaves behind his wife, Dale (Line) Auseth; daughter, Chelsey (Kelly) Krause, their children Paige and Kyle; daughter, Shyla (Randy) Bye and their children Cori and Bailey; daughter, Brandy Auseth (Adrien Gauthier and their children Cody and Brielle; and son, Dustin (Tana) Auseth and their children Chase and Colt.
Marvin was raised in the village of Success. He later went on to farm on his dads farm west of Cantuar. He married the love of his life Dale in April of 1977 and together they raised four children: Chelsey, Shyla, Brandy and Dustin. They made their home in the village or Success where he worked for various farmers, drove school bus, ran a carpentry business and Starvin Marvin's store and post office as well as being mayor of the village for a period of time.
In 1991, the family moved to Irvine Nelson's farm east of Success where he raised sheep, pigs, and cattle and grew cereal grains. During this time, he also started Starvin Marvin's custom fencing and built around 600 miles of barbed fence around the southwest corner of Saskatchewan. As well as his farming commitments, he was a proud member of the R.M. of Saskatchewan Landing and the volunteer fire department.
Marvin was known for his great sense of humor and his ability to make friends with anyone. He loved to visit with people, the coffee pot was always on and everyone was always welcome. Marvin's family was very important to him and he is survived by a large extended close knit family
who will miss him greatly.
Have You Ever...?
By Marvin Auseth


Have you ever felt the stillness
in the country at the break of dawn?
Or witnessed the tranquility of a deer
Feeding her newborn fawn?

Have you ever heard a hawk
Screeching while in the fly?
Or seen the scurrying of the gophers
When they realize there's death close by?

Have you ever smelled a rain shower?
Or the aroma of fresh mown hay?
Or the cool serenity of a sunset
At the end of a hot summer's day?
Have you ever felt the crispness
Of a frosty winter morn?
And marveled at the beauty of the hoarfrost
That the trees so proudly adorn?

Have you ever stopped to wonder
At the beauty of your wife?
Or ever stopped to thank her
For the joy she brings to your life?

Have you ever stopped to thank the Lord
For important things like your health?
Or realized that it takes more than money
To contribute to your wealth?

I'm proud to be a country boy
And lucky to have experienced all the things
And every time I hear a song bird sing
I feel richer than the wealthiest of kings
View More
Donor Honour Roll
Allan & Karen Lamont
$100
Bev and Shirley Sherman
$30
Chris and Janet Strain
$50
Colette Cote & Denis Kilburn
$235
Colette Cote and Dennis Kilburn
$100
Dale Auseth - cash donations
$530
Dennis and Louise Corrigan
$50
Janice Goodman & Brian Henderson
$50
Joseph and Joyce Starkey
$50
Randy & Joane Robertson
$50
Roger and Carolyn Malchow
$30